DIGI-CARDS TRAVEL TO RIO TO MEET THE POPE
RIO DE JANEIRO, BRAZIL JULY.23.13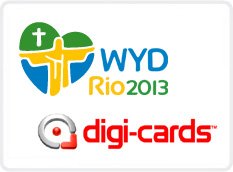 Digi-cards as a global company is usually present in one way or another at every very important event, and this July is no different. Digi-cards started as a music download card almost 7 years ago, and it is music that will take Digi-cards to the World Youth Day in Rio de Janeiro this year. Some of the most important Christian music bands in Mexico "Maurilio Suarez y su Grupo Messia" and "Sal Radioactiva" will take thousands of Digi-cards and distribute them during this most revered event in the Catholic world. A very important day for Digi-cards, and especially for the founder, Gerardo Alton-Ortega who is a devout Catholic. This is not the first time Digi-cards get close to the Pope. They were also used at the Vatican museum in Rome, as well as many other Catholic celebrations around the world, and are also planned to become the choice of distribution for millions of Bibles, in all languages in the very near future.
YOUR OWN CUSTOM MOBILE DOWNLOAD SITE AT NO EXTRA COST
MIAMI, FL. JUNE.20.13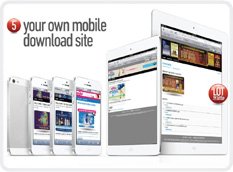 Digi-cards download cards are the only company in the world to offer you a custom mobile download site at no cost. Your mobile download site has all the advantages of your PC download site and it is compatible with all mobile devices. Some files might be restricted from downloading depending on your device operating system, however all files are available in mobile devices to play or enjoy instantly. Once you get to a PC you can download the restricted download files and drag them into the mobile device. For more information on what Digi-cards download cards can offer, you can visit this link: digi-cards.com/en/promos/alotforlittle. Digi-cards download cards are the World´s first and leading producer of custom download cards.
THE FUTURE OF THE SCHOOL YEARBOOK IS HERE
MIAMI, FL. MAY.28.13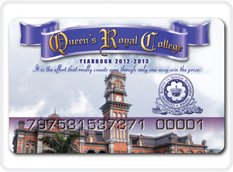 Year after year, more and more schools are going green and keeping the tradition of distributing a physical keepsake, except this time it does not weigh 8 lbs. The Yearbook Digi-cards are here to stay, and since the cost is much lower than the printed yearbooks, students can gift friends and family with their own Yearbook Digi-cards. Digi-cards can also hold more images, texts, videos and other multimedia regular print Yearbooks cannot. Digi-cards will keep the tradition going for many more years by helping the Earth and saving costs all around. "Wouldn't it be nice 25 years from now to find your Yearbook Digi-card and re-live the memories, what do you think?"
DIGI-CARDS & DIGI-CODES APPS ARE HERE
MIAMI, FL. MAY.10.13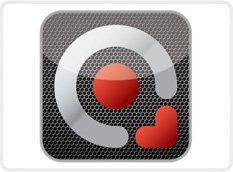 Vital Digital Global will launch a 1-2-3 step mobile application for its products this summer, in an effort to create an easy-to-use interface for end users and override the annoying restrictions on mobile devices like phones & tablets, due to the plethora of mobile operating systems and brands. "The biggest issue of IT in companies like ours is keeping up with operating systems upgrades and restrictions, not new releases of products. These new app developments will remove a lot compatibility issues and errors that our IT & Support teams spend time on. Now, their time shall be invested on developing better systems for our products. Just keeping up with giants is hard, it is like they do it on purpose" said Javier Iriarte, Chief Production Officer of Vital Digital Global. "This new mobile app should take care of that" he added.
PRODUCT REGISTRATION, WARRANTY AND INSTRUCTIONS IN ONE SMALL PACKAGE
MIAMI, FL. APRIL.23.13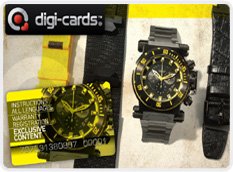 Digi-cards are becoming the easy to use, multi-language instruction booklet with video and audio support that automatically register the product, verifies authenticity and gives volumes of demographic data to manufacturers. Each year, billions of products are sold around the world, from appliances to electronics, beauty products to watches, all having a common denominator: the hard to read and non-eco-friendly instruction booklets, and the never-mailed registration card. Costs to manufacturers to acquire and distribute this information is usually always above the "cents" mark until now. All of this information is available for pennies on the dollar by replacing this outdated materials with Digi-cards and it is becoming a fast trend, not only because it is easy to use, and innovative, it also adds nice product placement for your brand, as most people will never throw a credit card-like product away after they read the instructions and register the product.
EUROPE ON PACE TO BECOME BIGGEST CONSUMER OF DIGI-CARDS
PRINCIPAT D´ANDORRA MARCH.05.13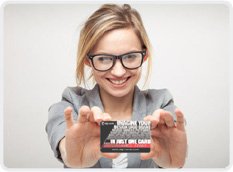 Since its humble beginnings, Digi-cards which started out as an almost door to door sales operation has become a standard of physical multimedia distribution. Digi-cards has proven its ability to be used as a marketing and research tool, as well as a product placement device that features its value-added service in its 6 years existence. The United States is the largest consumer of these multimedia download cards with Latin America in close second and Europe not too far behind, becoming the third and on pace to become the second largest consumer by the end of 2014. "Europe catches up fast in technology and embraces it very well" said Denis Jean Pascual, European Chief of Operations for Vital Digital Global, parent company of Digi-cards. Renowned companies and brands like E.leclerc & Pernord Ricard are relying on Digi-cards for better customer interaction and relations as well as marketing innovation with great results. These projections might even double once Digi-cards enters the European soccer world just like they did with the National Hockey League in the United States.
VITAL DIGITAL GLOBAL INTERNATIONAL GROWTH WILL CONTINUE ON 2013
NEW YORK, NY. JANUARY.15.13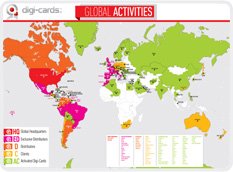 In spite of the global recession of the past few years, Vital Digital Global continues its growth on a yearly basis. Digi-cards were established in the United States in the late 2000's and quickly became an entertainment business household name, then by branding itself in Latin America in recent years Digi-cards moved towards Europe where now is becoming a well-known product. With distribution in more than 30 countries in the world, Digi-cards download cards have been redeemed in over 80 countries in 5 continents with multiple uses. Benefits vary from value-added product to multimedia distribution and more than 20 different business applications, Digi-cards download cards have become one of the most innovative and efficient marketing products in the world. During 2013 the expansion to the Middle East will continue by opening offices in Dubai, UAE and signing new exclusive product distribution licensing agreements in Europe, Latin America and the Middle East.
DIGI-CARDS & DIGI-CODES AS SWEEPSTAKES TOOLS
MIAMI, FL. JANUARY.10.13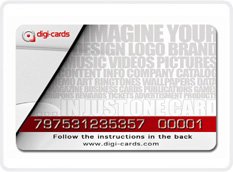 Digi-cards, for the past 3 to 4 years have been used by many companies as a marketing research tool.The strategy is simple, buy merchandise and get a Digi-card as a value-added product. Digi-cards not only offers product placement (in the pocket of the end user) but offers very valuable marketingresearch and demographics to the merchant. During the first couple of years of use with Digi-cards, this valuable data was exchanged for content (music, movies, e-books, games, and software). Lately, thetrend for data exchange has added a sweepstakes tool, creating the chance that someone could win a car, electronics, product, coupons, travel, etc. and makes it more likely the person will redeem the Digi-card, giving a higher percentage on the redemption rate. With Digi-cards, we always recommendutilizing both, the data exchange and the sweepstakes tool, as there is nothing like instant gratification mixed the chance of winning something big. Digi-cards and now Digi-codes are becoming the fastest growing marketing tools in the world.
WE AT DIGI-CARDS AND DIGI-CODES WISH YOU HAPPY HOLIDAYS
NEW YORK, NY. DECEMBER.18.12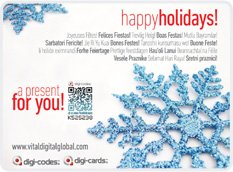 This year has been the most exciting year for Vital Digital Global Corp. as we launched our newest product: Digi-codes. During this season we reflect with all our team members of how fortunate we are of being able to share with all of our customers some of the most advanced marketing tools andmultimedia distribution products in the world. We would like to thank first of all our clients, who make this company growth possible, then to all of our distributors - local, regional, exclusive and international- all around the world, for believing in our products and our company. And last but not least, our team,because without you none of this would be possible. We share our goal of a prosperous 2013, and wish everyone who reads this Happy Holidays!
DIGI-CARDS AND DIGI-CODES PHYSICAL AND VIRTUAL SOLUTIONS IN ONE
MIAMI, FL. NOVEMBER.01.12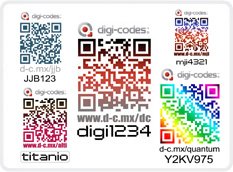 Digi-cards are now the best selling and re-selling custom multimedia download cards in the world and a favorite to artists because of their quality and money-making capabilities. "No one buys a paper or laminated card, you basically can only give them away, but a credit card-like download card sells itself no matter how unusual your music is" said Jerry Harp, International Sales Representative. If this was not enough of a selling point, now add to the equation Digi-codes, which give you the opportunity to sell directly through the internet without having to go through other venues. "Basically you get your own itunes download store without sharing with anyone and are able to distribute them through facebook or any other social networks". Digi-codes, the latest product to come out of Vital Digital Global is also becoming an integral part of direct multimedia distribution in both dimensions, physical and virtual. For more information go to www.digi-codes.com and www.digi-cards.com sites.